Opening of Palliative Care Inpatient Unit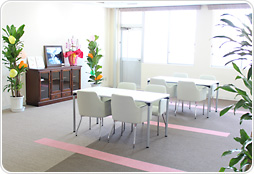 The Palliative Care Inpatient Unit was newly established in August 2013. Immediately after opening on August 12, acceptance into the inpatient unit was limited to inpatients from other inpatient units within the hospital, but from October the inpatient unit has been accepting patients referred by other medical institutions. The Aso Iizuka Hospital Palliative Care Inpatient Unit takes three approaches: (1) the provision of holistic care; (2) treatment through team medicine care; (3) serving as a bridge to a patient's preferred treatment environment (including home medical care). The inpatient unit aims to expand on the palliative care that Aso Iizuka Hospital has provided in the past, and help our patients live the life they want until their passing, in addition to comforting them during their final days. The Palliative Care Inpatient Unit, newly established by renovating an existing inpatient unit, has 18 beds all in private rooms, and includes rooms where family members can stay overnight, as well as a kitchen that can be used by patients and family members, protecting patient and family privacy while providing an environment for patients that is similar to living at home.
Milestone 20th Community Healthcare Supporter training program held
We initiated the Community Healthcare Supporter Program in March 2010, to ensure that the people in the Chikuho region have continuous access to reliable health care and knowledge and information to effectively utilize healthcare resources and take proper actions. We defined individuals who practice "disease prevention" and "appropriate doctor visits," and who propagate this to those people around them as Community Healthcare Supporters. A supporter training program is held once every two months, and individuals who participate three times become certified "supporters," upon which they receive certificates and original goods. In addition, supporters can also attend, on a voluntary basis, twice-yearly "supporters' meetings." In July 2013 a milestone was reached at which the program had been held 20 times, bringing the number of supporters to 546 people.
Residency training system –25th anniversary
In Japan in 2004, the current residency training system started, under which it is compulsory for doctors wishing to practice to receive residency training for two or more years. Preceding this by 15 years, in 1989 Aso Iizuka Hospital received designation as a residency training hospital from the former Ministry of Health and Welfare, and began postgraduate training of doctors. We have placed high priority on primary care, thus on general medicine, from the beginning using the so-called "super-rotation system." The years of experience we have with this system, the presence of excellent supervising doctors, and a culture in which fellow doctors-in-training actively share knowledge and experience to raise each other's level, make Aso Iizuka Hospital one of the most sought after training hospitals in Japan every year. More than 250 residents have now completed our residency program, and are now working all over Japan and overseas.
Tie-up with El Camino Hospital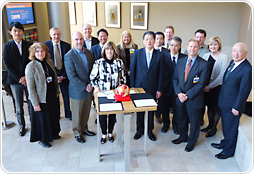 In March 2013, Aso Iizuka Hospital signed a memorandum of cooperation with El Camino Hospital, in Silicon Valley, California. El Camino Hospital has knowhow relating to cutting-edge technologies including robotic surgery, while Aso Iizuka Hospital has strengths in hospital operation QC methodology such as TQM, and through the mutual learning opportunity created by the tie-up both institutions share knowledge in their respective strong points. With the conclusion of the memorandum, our two institutions have conducted joint research into their roles as regional core hospitals in regional healthcare, and work to realize patient-first healthcare through mutual visits and other exchanges.
Completion of North Wing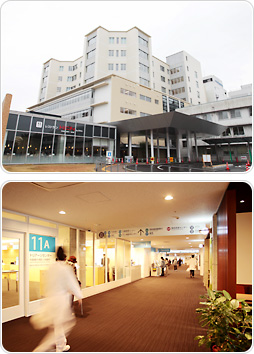 In January 2013, Aso Iizuka Hospital opened its new addition—the North Wing. The North Wing, constructed with the theme "creating a regional environment that will lead to a future with healthy mothers and children, as well as safety and peace of mind," is eight stories high with outpatient clinics mainly on the first to fourth floors and inpatient units on the fifth to eighth floors. For the first time in Japan, a "cloverleaf" floor layout has been adopted in inpatient units, each floor having a centrally located staff station—a configuration that makes it possible for staff to fully care for patients. In addition, to provide care close to patients in the inpatient units, workspace and storage space has been set up close to hospital rooms, and a work style based on cellular manufacturing has been adopted. Through the introduction of reception counters that cover reception for different departments, and centralized treatment in which procedures for each department are carried out in a central area, efficient and compactly organized outpatient spaces have been created on the first to fourth floors. Both the MFICU (Maternal Fetal Intensive Care Unit) installed on the sixth floor and the PET-CT on the first floor are the first to be introduced in the Chikuho region, contributing to an improved regional healthcare environment. To deliver heartfelt healthcare to everyone in the region with our patient first spirit, the staff as a whole is resolved to progressing forward with the North Wing.
Doctor car operation commences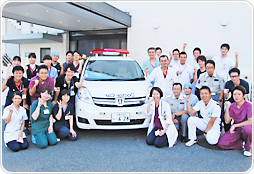 Aso Iizuka Hospital started operation of a "doctor car" in August 2012. The "doctor car" is a vehicle that is dispatched rapidly with a doctor, nurse, paramedic or other medical staff on board to emergency situations at the request of the fire department. Use of the vehicle means that the emergency medical treatment can begin on site without waiting for the transport of the patient to the hospital, which is expected to save more lives and mitigate subsequent complications. Several medical institutions in Fukuoka Prefecture use "doctor cars", with ours being the first in the Chikuho region. Initially, running was limited to weekdays, but this was expanded to 365-day operation covering a wider area from June 2013. The "doctor car" has now been in service for over a year, receiving more than 300 requests for dispatch, and continues to be called out to save even more patient lives.
Tie-up with Memorial Hermann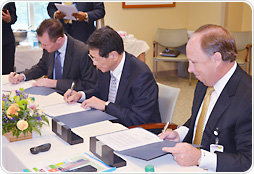 In June 2012, Aso Iizuka Hospital entered into exchange cooperation with the Memorial Hermann Healthcare System. The aim is to learn from each other's respective strengths, with Memorial Hermann accepting Aso Iizuka Hospital staff in fields such as neurology, circulation and rehabilitation, while Aso Iizuka Hospital receives staff from Memorial Hermann in areas such as TQM activities. The establishment of the exchange cooperation has already led to a number of teams visiting the Memorial Hermann Healthcare System's flagship hospital, the Memorial Hermann-Texas Medical Center in Houston, Texas, where they have had the opportunity to learn from Memorial Hermann's practice of advanced medical care and team medicine care.
Conclusion of Agreement to Promote Medical Engineering Partnership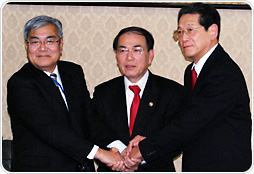 In December 2011, Aso Iizuka Hospital concluded the Agreement to Promote Medical Engineering Partnership with Kyushu Institute of Technology and Iizuka City. Its aim is to match technology proposed by Kyushu Institute of Technology with the needs of medical practice, leading to research, development and commercialization of solutions to medical problems, thereby bringing industry-academic-government collaboration to a new level. With this foundation, it is expected that Iizuka City will see the establishment of a new industry. Through industry-academic-government collaboration, Aso Iizuka Hospital aims to realize better healthcare and constantly push innovation forward.
Dispatch of DMAT (Great East Japan Earthquake disaster medical assistance team)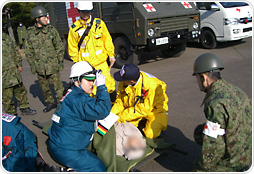 On March 11, 2011, a large-scale seismic disaster—the Great East Japan Earthquake—hit Japan's Tohoku region. On the morning of the following day, March 12, we dispatched a disaster medical assistance team (DMAT) to the Tohoku region. A DMAT is made up of doctors and nurses who have received special training, which rushes to the scene of a large-scale disaster or accident that has resulted in many injured and sick people, to act in the acute phase (within about 48 hours of the event). The Aso Iizuka Hospital DMAT worked alongside DMATs from other hospitals around Kyushu to provide emergency treatment to patients in the stricken region, and to carry out triage of patients carried out by helicopter.